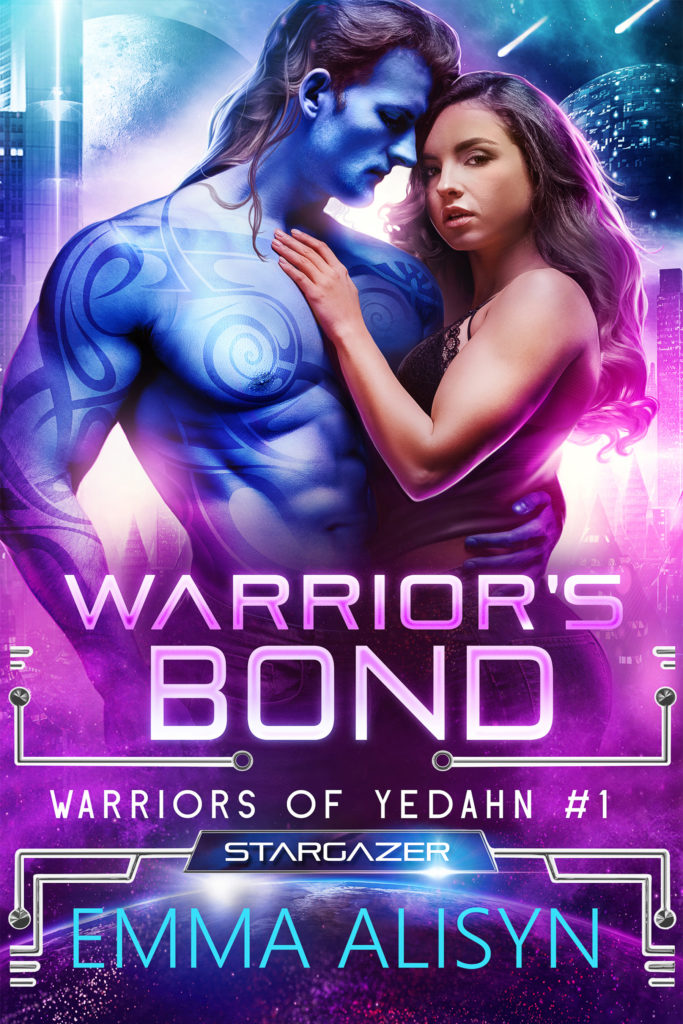 Alien warrior Benyon's bonding tattoos flare when he meets single mom Zoriah. According to the Treaty, she's his for the taking. But he still has his honor—he'll woo her first, and lift his sword to prove he is a worthy mate.

Fierce, protective, willing to stand up to an enemy threatening her children, Benyon unexpectedly ignites Zoriah's every buried desire.

Six feet of blue, rippled muscle? Sign her up.

It's not that simple though. Accepting the bond means leaving Earth forever, and when she arrives on his home planet, the locals don't believe she is truly his bonded mate.

To protect her, Benyon will have to repudiate their bond. She should run . . . but he'll never let her go and not everything is as it seems. . .

Warrior's Bond is a sci fi alien warrior romance featuring genetic fated mates, a feisty single mom, high conflict, low angst, and steamy heat. First in the Warriors of Yedahn series for readers who enjoy alien cultures, dystopian Earth, and lots of adventure. Standalone, HEA.
A warrior in doctor's clothing. His terminally ill mate. A mating bond to save her life.
Alien warrior Jaron refuses to watch his secret human mate die. He's been patient, shielding her from his need and desire, courting her with stealth.
But she's been keeping a deadly secret, and it's time for Jaron's gloves to come off.
No one will prevent him from bonding with Mila.
Not the corrupt corporation that wants to abduct her for her blood, and not Mila herself.
Warrior's Vow is genetic fated mates science fiction romance for readers who love strong willed heroines and alpha male alien warriors. This standalone is Book Two in the Warriors of Yedahn series, for readers who love action, sass, and steam.
A Dark Alien Prince + his unquenchable desire x his insatiable thirst = a warrior willing to defy a galaxy to claim his mate.
Born with a platinum spoon in her mouth, warrior bride-in-training Gayle throws it away in order to sneak aboard a Yadeshi military vessel to escape imprisonment by her family. Ithann, the alpha alien warrior she's been taunting with flirts and sloe-eyed glances for several weeks, is enraged by her sudden disappearance and abandons his teaching post to follow.
When he catches her, Gayle must accept a highly indecent proposal to avoid being thrown in the ship's brig- and by accepting, embroils herself in Ithann's decades long feud with a rival nobleman.
Roped into an arranged marriage, she is determined to avoid the shackles of a mate bond, but Ithann is determined that not only will they bond, but that she will have his baby. Their battle of wills may cost Gayle her life.
A scorching hot, borderline dark sci-fi/fantasy romance for readers who enjoy taunting, alpha, bloodthirsty- and blood-drinking- alien warriors who will sever heads to claim their chosen mates. A 40K word novel, HEA, 3rd in the Yadeshi Brides series. It may be read as a standalone, however characters from the prior two books make brief appearances.
Abducted. Knocked up. A royal alien warrior ruthlessly hunts down his mate's enemies. A new mother discovers the power of her bonding marks—and the strength to fight back.
Vivian never thought a midnight run would land her on planet Yedahn, in the custody of an elite royal warrior claiming she is his genetic fated mate.
Kinda hard to argue with facts when she's about to have his baby.
But forget the baby shower, the traffickers who kidnapped her want their investment back. Sucks to be them, because Vivian won't be taken, ever again . . . except by her mate. And someone forgot to mention that the glowy marks on her arms give her access to far more than her warrior's wealth . . .
Tai'ri's work on the anti-human trafficking task force has just become personal. A twist of fate gives him what he's always wanted, a mate and child of his own, but they come packaged with relentless enemies determined to take back what is his.
He claimed his mate, and he will keep his mate. Even if it means his life.
Warrior's Captive is a genetic fated mates, steamy slow burn, surprise pregnancy urban sci fi romance with a HEA. Book 4 in the Warriors of Yedahn series.
Download now because you love action on distant planets, high tech alien civilizations, heroines who start off as damsels but end up taking no prisoners, and warriors not afraid to kill for what they claim.
Abducted by her one night stand. Confined on a ship. Stalked by a traitor.
She wanted a prince, but it just *ucking figured Shira Perez's alien baby daddy turned out to be an intergalactic pirate.
Slick, amoral, hot as hell, Malko thinks just because his DNA helped create her son that she is his genetic fated mate, and permission is a pesky detail.
Shira's no pushover, and even when Malko's bonding marks begin to spark, she fights for her independence.
But with a traitor on board, everything isn't as it seems, and underneath Malko's dark side is a streak of honor. His armor may be tarnished, but just maybe he's still a knight.
Warrior's Taken is an alien abduction, secret baby science fiction romance. Book 5 in the Warriors of Yedahn series, for readers who get off on snarky, sardonic, and steamy.
Secrets. Redemption. A bond forged under dark fire.

Imperial commander Vykhan craves his human mate in secret, but taking her means unraveling the layers of control he's worked years to rebuild. As the newest warrior under his command, when she's threatened by palace enemies, his will breaks.

She's his to protect, his to take. . .she just doesn't know it yet.

Reign is instantly wary of her new commander—despite his chilly, condescending attitude the attraction between them reels her in.

An odd sense of familiarity, and the suspicion he's deeply involved with her hidden enemy, sets off every honed instinct.

They clash, and everywhere she turns he's there—arrogant, demanding, eroding her barriers.

But turnabout is fair play. By challenging him in return, the ruthless warrior unravels—and the truth emerges.

Reign must either accept his dark side, and his claim, or walk away forever.

If he'll let her.

If it isn't too late.

Warrior's Reign is a sci fi alien fantasy romance for readers who love adventure, slow burn fated mates who combust, hidden enemies and steamy, edgy chemistry. Standalone, Book 6 in the Warrior of Yedahn series.