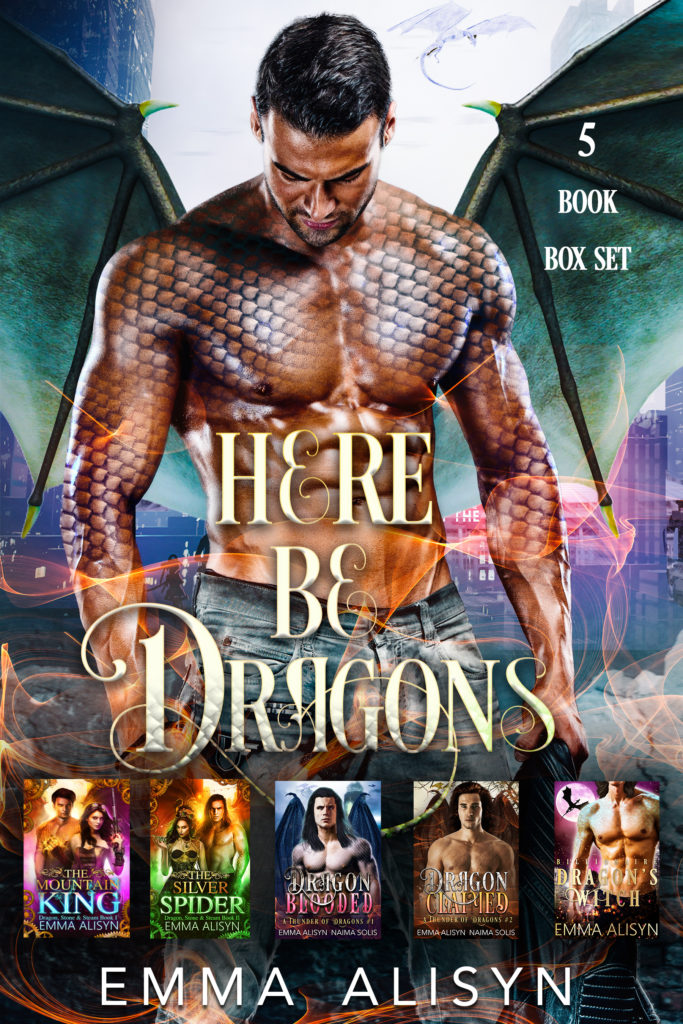 5 PARANORMAL DRAGON SHIFTER ROMANCES FOR A LIMITED TIME
(For readers who do not prefer Box Sets, click on the title for individual books.)
THE MOUNTAIN KING
Renege on a deal with a Dragon Lord and become part of his hoard.
THE SILVER SPIDER
Halfling Fae witch Serephone infiltrates a brothel in the Seattle Dome to hunt the patron who almost killed her sister. . .and winds up imprisoned in a Fae court—and learning of her hidden heritage.
DRAGON BLOODED
A ruthless dragon lord who destroyed Chicago. A woman desperate to end his reign of fire.
DRAGON CLAIMED
A mandatory mating selection. A green-eyed forest god who claims her as his mate. 
BILLIONAIRE DRAGON'S WITCH
On the run hiding a powerful relic, Jezamine meets a billionaire dragon with a magical jewel that chooses her as his mate. 
I'm just your average gal, a fugitive on the run from the barbarian warrior who tried to claim me as his mate and drag me back to his planet where women are blood concubines.
I fled. He isn't happy.
How was I supposed to know he was a prince?
And now that I'm a wanted criminal on his planet, when he finally captures me, I don't expect a happy reunion.
One obsessed warrior prince pissed off at having to hunt me across galaxies? Check.
Two walking, talking secrets I've kept from him? Double check.
A mating frenzy I can't escape, and an enemy who doesn't want me to have a happily ever after? Yeah, check that too.
Ready for departure? Great, download now.
His Secret Heir is a steamy sci fi alien warrior prince romance for readers who crave enemies-to-lovers, fated mates, and obsessive barbarians who won't take no for an answer. First in the Khuldunian Warriors series.

A war of Fae Houses. A Prince waking from darkness. A woman drenched in his blood.
In the Fae city of Everenne, the Prince is waking. The Court has not felt the full weight of his presence in centuries. It is the soul cry of his fiercest enemy that stirs him.
Aerinne Capulette has led House Faronne in the ground war against Prince Renaud since she was a child. But her people don't take prisoners, and the secret of the warrior she executed in battle may shred the white flag the warring Houses have finally waved.
The secret will cost her life if Renaud finds out.
As she navigates the cease fire, it becomes clear that terms hinge on an unexpected element.
The Prince wants her, and is obsessed with having her at any cost, even if he must wield his wintry power to claim her against the protest of his Court, the fury of her House, and her own defiant will.
They may be enemies, but her hatred only seduces his darkness.
These titles are in various states of drafting. Join newsletter for upcoming release dates & ARCs!
Emma is a 40 mumble mumble bi-racial American Muslim mother of five who writes paranormal, sci-fan, and urban fantasy romance.
Her dragons, fae, and bears will most interest readers who like their alphas strong, protective, and smokin' hot; their heroines feisty, brainy, too grown to give a *uck, and over the age of 30.
Her stories feature men and women of diverse backgrounds.
CONTACT: emmaalisyn@hardcandiespublishing.com
Disclaimer: As an Amazon Associate I earn from qualifying purchases.